Bio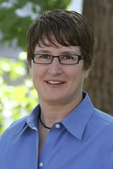 Patti Frazee is the author of three novels. Her young adult paranormal mystery, Unleashing the Shadows, was released in October 2020, the first in a series. Her adult novels are Cirkus and Out of Harmony.

Patti grew up in Fremont, Nebraska and attended the University of Nebraska at Kearney. She received a BFA in theatre and went on to work at the prestigious Williamstown Theatre Festival in Massachusetts for two summers. After a brief stint in New York City and a longer stint in Nebraska, Patti eventually moved to Minneapolis.

She left the acting life and pursued her dream of becoming a writer. She received an MFA in Creative Writing from Hamline University. Patti was awarded an honorable mention in the Astraea Lesbian Foundation for Justice Lesbian Writer's Fund in 2005.

Patti is a professional project manager working in the publishing industry. She is a book designer, copy editor, copywriter, and proofreader. She has worked with companies such as RMC Learning Solutions, Llewellyn Worldwide Publishing (specifically with their Flux imprint), Hazelden Publishing, and U.S. Bank.

She also works with indie authors, advising them in all facets of publishing. She has worked with authors such as Lorna Landvik and Resmaa Menakem.

Patti lives in Minneapolis with her wife and their dog.